This book is very different to something I would normally read – not YA, told by an older voice. But I was intrigued by it and picked it up for only a euro.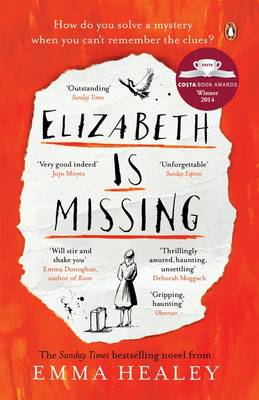 Title: Elizabeth Is Missing
Author: Emma Healy
Pages: 275
Date Started: 1st January 2017
Date Finished: 7th January 2017
Stars: 5/5
This book tells the tale of Maud Horsham. Current day, she is an eight-something year old grandmother suffering from dimentia. It follows her trying to piece together clues to find her friend Elizabeth.
The book also weaves in a second story – from 70 years ago. It focuses around Maud's older sister, Sukey, who has also disappeared.
"A few years ago I would have been appalled at myself – watching TV in the day! But what else is there to do? I occasionally read, but the plots of novels don't make sense anymore and I can never remember where I've left off. So I can boil an egg. I can eat an egg. And I can watch TV."
The main attraction to this book is the accuracy with which dimentia is dealt with. Healy slips into character from page one and doesn't budge. It continues to astound me that a 20-something can so accurately speak from an 80-something, dimentia-riddled voice. The character is believable, not overdone or underdone.
I think this is such a wonderful account of growing old. It has it's sad parts, funny parts. I'm not entirely sure I agree with it being advertised as a mystery. There is mystery, obviously but it's not the main factor.
The ending for this novel came under scrutiny in some reviews I read. People called it messy and confusing. I agree. It's being told by an 80 year old women with dementia though, for dawn's sake. I mean, what do you expect. Yes there were loose ends, yes it was a bit confusing but I think it added to the story.
This is a quick read (yes it took me a week but I  was reading 3 books at the time). I highly, HIGHLY recommend you pick this one up
Conclusion: This book is a poignant, moving phenomenon.